Production ready PXI Test Frame with integrated Fixture Interface
A simple test strategy, decided on from the outset, could REDUCE COSTS, IMPROVE PRODUCTIVITY and FREE UP your Test Engineers to develop more Test applications.

Test Frame provides a proven, fully integrated ATE frame with integrated Fixture Interface, allowing all your test hardware and resources to be housed in one easily movable frame.

Fitted with test hardware of your choice, cabled up to a proven low cost Fixture Interface, your company would then be able produce its own ATE systems fit for today's manufacturing demands.
The standard built-in Fixture Interface accommodates up to 21 interface connectors, and has a maximum of 2,016 test points. These may be a mix of signal pins, high current, high voltage or RF connections.

Conditioning or Protection circuitry may be added to any of the PCBs to which these interface connectors are attached, thereby keeping your Test Fixture clear of electronics, and Terotest provide the basic CAD for these as part of the package.
Below the rugged table top, which houses an integrated keyboard tray, there is 16U (711mm) height of rack space to house your PXI chassis, power supplies and other test instrumentation.

Test Frame also features a 'pull out top Pod' for easy maintenance and cable updates, plus quick panel removal for access all around the system.

Dual bay Test Frames are also available giving twice the rack space and more than double the table top room.
Test Frame is built to CE standards and as such it is fitted with a low voltage Emergency Stop Switch and mains safety control system, plus integrated mains distribution and mains sequencing (a feature that PXI systems usually need).

Low cost Test Fixtures and interfacing are a main feature of this system. Terotest provide test Fixture Kits, customised or plain, or will provide any component part of the Test Fixture to enable companies to produce their own fixture solutions.
Test Frame Highlights


Available at any stage of completion, from a bare shell up to a fully built system i.e 'Built to Print'.
Frame
Flexible Low Cost Test Frame
Easy Integration of most types of test instrumentation:
PXI 3U & 6U cards
LXI, USB, GPIB, RS-232
16U of 19" rack space for instrumentation in lower rack alone.
Interface
Simple 'mass-interconnect' interface included standard.
All test modules cabled through to Fixture Interface.
Up to 2016 Test Points.
Uses low cost reliable connectors, suitable for:
RF, Digital, Analogue, High Voltage, High Current.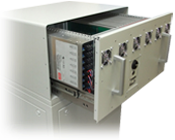 Top Pod
Easy access to Fixture Interface via slide-out frame.
Fixed & programmable UUT Power Supplies available.
Instrumentation internally connected to interface.
Larger dual bay & smaller desktop versions available.
Fixture
Low Cost Text Fixture.
Quick & easy fixture attachment and removal.
Removable cassette fixtures available to reduce overall cost further.
Example Interface Connectors


All interface connector types used are based on the DIN 41612 format. Each connector is soldered to a PCB, which together forms the Test Interface Card (TIC). The rear of the TIC is fitted with the appropriate PXI cable connector.
DIN 41612/1
96 Way
Signal Pins
DIN 41612/2
78 Way Signal Pins
2 Coax Connectors
DIN 41612/3
24 Way Signal Pins
8 Power Connectors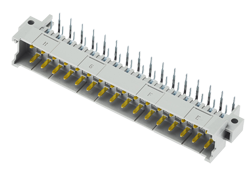 DIN 41612/4
48 Way High-Voltage
/ High-Current Pins
Example PXI 96 Way to 78 Way
Test Interface Card (TIC)
Front view

Note. card may be from 60mm - 320mm deep
Rear view
Test Frame Specifications
Top Pod (with rear pull-out chassis)
Card frame details
Double Eurocard (6U) by 220mm deep (expandable to 340mm)
PSU Space
Up to two Multi Output supplies (MOPS) may be fitted
Interface details
21 Slot DIN41612 style interface
Two silver steel alignment pins
Twin pull-in' lever locking mechanism
Interface connectors fitted to 60mm - 200mm deep PCB's
Interface PCB's from stock or customised
Size (H x W x D)
1225mm x 660mm x 1010mm
Weight (unloaded)
Approx. 50kg
Size of Table Top (W x D)
660mm x 578mm
System Access
Four removable panels
19" Rack size (H x W x D)
735mm x 480mm x 630mm
Power Input
220-240V AC - Over Current / RCCB breaker
Mains Plug Spec
16A input socket plus 2 x 10A IEC output sockets
Mains Distribution (internal)
Mains Distribution details
10 x IEC 10A rated IEC sockets as standard (expandable)
Safety System Specification
Emergency E-STOP circuit (key resetable)
24V Safety mains control system